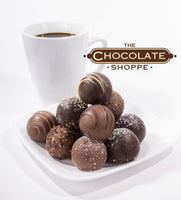 Small Town Feel...Big World Taste!
The Chocolate Shoppe is a specialty chocolatier located in the western suburbs of Chicago. Since 1997, our Master Chocolatier has offered a variety of award-winning chocolates throughout the seasons.

Our handmade chocolates are crafted in small batches the old-fashioned way; with a bowl and a spoon. 
We source the highest quality ingredients from certified fair-trade farmers to bring you a finished product that is created with simple and natural ingredients, without additives or preservatives.
Premium Belgian chocolate, pure Madagascar vanilla, organic sugar, and the freshest Vermont cream creates chocolate that families can enjoy without compromise. 
The Chocolate Shoppe is your "Main Street" Chocolatier; small town feel with big world taste.
Featured Products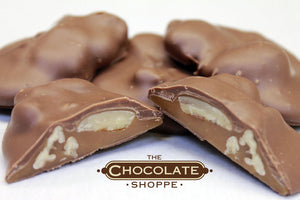 Traditionally known as "Turtles", our Caramel Pecan Patties feature delicately roasted pecans that are coated in our rich, buttery caramel, and then dipped in our premium Belgian dark or milk chocolate.
Caramel Pecan Patties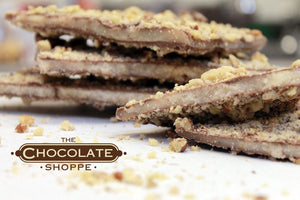 This soft, buttery toffee is handmade to bring a delicate crunch with every bite. Our traditional toffee is layered on top and bottom with premium Belgian chocolate, and coated in a walnut and pecan dusting.
English Toffee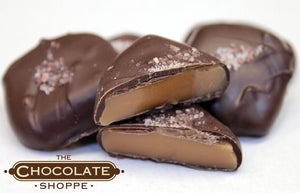 Our creamy, buttery caramel is highlighted in the sweetest way with a coating of premium Belgian dark or milk chocolate, and dusted with just a hint of Himalayan pink sea salt.
Salted Caramels
AWARD WINNING CHOCOLATE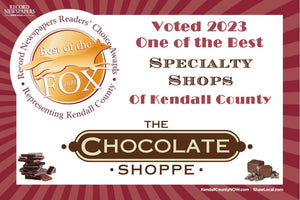 2011 Only in Your State - Top 9 Best Chocolate Shops in Illinois
2011 Art of Dessert 1st Place - Chocolate Chai Mousse
2015 Chase "Mission Main Street" - Top 100 National Semi-Finalist
(Selected from over 7,000 small businesses in the USA)
2016 Best of the Fox Award Winner - Top 3 Best Dessert in Kendall County
2016 Yorkville Area Chamber of Commerce - Business of the Year
2016 Official Chocolatier of the Mrs. America Pageant - Crystal Cavey (Mrs. Illinois)
2022 DeKalb County Fair (Sandwich Fair) - 1st Place Candy - English Toffee
2023 Only in Your State - Top 8 Best Chocolate Shops in Illinois
2023 Best of the Fox Award Winner - Top 3 Best Specialty Shop in Kendall County
2023 Inc Magazine & The UPS Store "Small Biz Challenge" - Top 9 National Semi-Finalist
(Selected from over 2,200 small businesses in the USA)
Customer Reviews
You won't be disappointed with anything you buy. The quality of their products are second to none. My favorite are the artisan truffles! In addition to amazing chocolates, the owners give back to the community routinely. They are amazing people!

Mandie Kolarik
The Chocolate Shoppe has the best chocolate! I have been buying my holiday chocolates as gifts for years. If you haven't tried their chocolate fruits (orange slices, pineapple slices & chocolate covered strawberries) they are a must try!

Patricia Goldman
We love The Chocolate Shoppe! Freshest chocolate dipped strawberries. Toffee is delicious. And when fall rolls around, be sure to treat yourself to "the absolute best caramel apple" that you will ever eat.

Mari Johnson