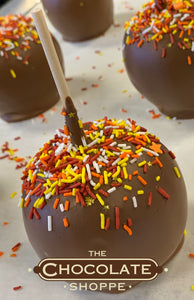 Apple orders placed between now and 3 PM on Saturday, September 30, 2023 will be available at the following times:

SHIPPING: Orders will ship on Tuesday, October 3, 2023 (will arrive on Thursday or Friday depending on your location).

DELIVERY: Orders will be delivered on Friday, October 6, 2023 between the hours of 9 AM to 12 PM.

PICKUP: Orders will be available for local pickup in our Plano location on Friday, October 6, 2023 from 10 AM to 4:30 PM.

Our specialty caramel apples are an incredible feat of culinary artistry, and weigh in at nearly 1-lb each. We start with the finest, crispiest, juiciest Washington apples (Ginger Gold or Honeycrisp), dip them in our creamy, buttery caramel, coat them in our premium Belgian milk chocolate, and then cover them with an array of fall sprinkles. Each apple is large enough to share with 3-4 people.
This item is made in a gluten free facility. This item is also egg free, peanut free and tree nut free (our sprinkles are also certified gluten free, peanut free, and tree nut free).
INGREDIENTS: Apple, Sugar, Vegetable Oil (palm kernel oil and cottonseed oils), Sugar, Cocoa Butter, Milk Powder, Cocoa Powder, Soy Lecithin (an emulsifier), Natural Vanilla, Corn Syrup, Milk, Water, Fructose, Hydrogenated Coconut Oil, Butter (cream, milk, salt), Sprinkles (sugar, palm kernel oil, corn starch, glucose, soy lecithin, gum arabic, carnauba wax, cocoa)..(CONTAINS CORN; CONTAINS MILK; CONTAINS SOY)
*Sprinkles may vary based on the season and may not be the ones shown in the photo.