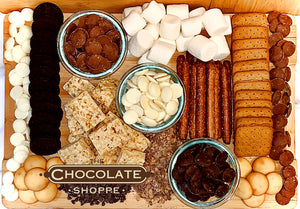 THIS ITEM IS AVAILABLE ON THE FOLLOWING DATES ONLY:

*NATIONWIDE SHIPPING WILL TAKE PLACE ON 12/18/23
*LOCAL DELIVERY WILL TAKE PLACE ON 12/22/23
*LOCAL PICK UP AT OUR PLANO LOCATION IS AVAILABLE 12/18-12/22
*IF YOU NEED YOUR CHARCUTERIE BOARD SOONER, PLEASE LET US KNOW!

Our amazing chocolate charcuterie boards are the perfect addition for your dining and entertainment needs. Pick up a mini board for yourself and a friend, or pick up a small or large board for your holiday party, office gathering, family dinner, or just for a fun Friday movie night at home with the kids!
Each charcuterie board kit includes a bamboo cutting board, certified gluten free, peanut free and tree nut free snacks, and our premium Belgian chocolate with directions on how to melt your chocolate at home. Your board can be assembled at home any way you like, but we have included a photo for inspiration! Items included with your board:
Bamboo Cutting Board
Crushed Peppermint Pieces
Graham Crackers
Marshmallows
Mini Chocolate Chips
Oreos
Pretzel Rods
Rice Crispy Treats
Vanilla Wafers
Premium Belgian Chocolate (your choice of Milk and Dark Chocolate, or Milk and White Chocolate, or Assorted Chocolate with Milk, White and Dark Chocolate as shown**)
Sizes Available:
Mini 6x8 board (serves 2-3 people) includes 1/2-lb of chocolate
Small 9x7 board (serves 6-7 people) includes 1-lb of chocolate
Large 9x12 board (serves 12-14 people) includes 1-1/2-lbs of chocolate
This item is made with certified GLUTEN FREE, PEANUT FREE, and TREE NUT FREE ingredients.
Bowls for chocolate are not included. Assembly required.
**A dairy free board option is available and will include our premium 70% Belgian dark chocolate.

INGREDIENTS:
Graham Crackers - Corn Starch, Brown Sugar, Corn Flour, Palm Oil, Soy Bran, Honey, Tapioca Starch, Baking Soda, Salt, Sugar. (CONTAINS CORN; CONTAINS SOY)
Marshmallows - Corn Syrup, Sugar, Corn Starch, Gelatin, Water, Dextrose, Salt (CONTAINS CORN)
Mini Chocolate Chips - Cane Sugar, Cocoa Butter, Cocoa Powder

Oreos®- Sugar, White Rice Flour, Tapioca Starch, Palm Oil, Canola Oil, Whole Oat Flour, Corn Starch, Cocoa Powder, Soy Lecithin, Baking Soda, Salt, Xanthan Gum (CONTAINS CORN; CONTAINS SOY)

Pretzel Rods - Corn Starch, Potato Starch, Brown Rice Flour, Tapioca Starch, Palm Oil, Dextrose, Cellulose Gum, Baking Powder, Oat Fiber, Sunflower Lecithin, Yeast, Xanthan Gum, Citric Acid, Salt, Sugar (CONTAINS CORN)
Rice Crispy Treats - Crisp Rice (rice, sugar, sorghum, corn syrup, vitamin a, vitamin b3, vitamin d3, vitamin b1, vitamin b2, folic acid, reduced iron), Corn Syrup, Sugar, Vegetable Shortening (palm oil, canola oil), Fructose, Water, Glycerin, Gelatin, Soy Lecithin, Baking Soda (CONTAINS CORN; CONTAINS SOY)
Vanilla Wafers - Cane Sugar, Tapioca Syrup, Egg Whites, White Rice Flour, Potato Starch, Palm Oil, Pea Starch, Tapioca Starch, Cellulose (corn), Water, Salt, Baking Powder, Sunflower Lecithin, Beta-Carotene (CONTAINS CORN; CONTAINS EGGS)
DARK, MILK & WHITE CHOCOLATE - Sugar, Cocoa Butter, Cocoa Powder, Milk Powder, Soy Lecithin (an emulsifier), Natural Vanilla (CONTAINS MILK; CONTAINS SOY)

**DAIRY FREE CHOCOLATE - Sugar, Cocoa Butter, Cocoa Powder, Sunflower Lecithin (an emulsifier), Natural Vanilla

(Oreo® is a registered trademark of 
Mondelez International

and

Nabisco.

We are not affiliated with these companies in any way, and our product is not endorsed by or created by the above-mentioned organizations.)