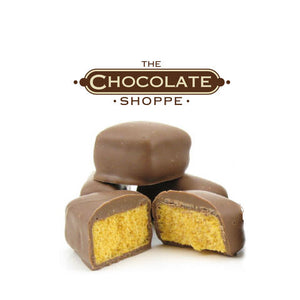 Sponge candy is hard to describe...it's a very delicate sugar puff created with sugar, corn syrup and baking soda, and is called by many different names around the world including Sea Foam, Fairy Food, Molasses Puffs, Crunchie Bar, Honeycomb Toffee, Hokey Pokey, and more! One thing is for sure; no matter where you're from, this delicacy is a favorite candy for people of all ages!
"Puffs" are broken off from the main block and covered with premium Belgian milk or dark chocolate. Available in a 1/2-lb box.
This item is made in a gluten free facility. While this item does not contain peanuts or tree nuts, one of the ingredients used comes from a manufacturer that shares equipment with peanuts and tree nuts; therefore, we cannot suggest this item for people with nut allergies/sensitivities.
INGREDIENTS: Corn Syrup, Sugar, Sodium Bicarbonate, Distilled White Vinegar, Inverted Sugar Syrup, Citric Acid, Potassium Sorbate, Sodium Benzoate, Sugar, Cocoa Butter, Milk Powder, Cocoa Powder, Soy Lecithin (an emulsifier), Natural Vanilla (CONTAINS CORN; CONTAINS MILK; CONTAINS SOY)